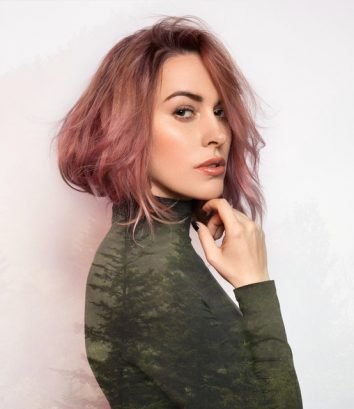 Wednesday 7pm GMT
Pretty Pink Deep Woods.
Risen from the deep & dark woods of the Harz in Germany, Pretty Pink made her way through the steaming and raging international club zone to manifest her belief into the most intimate basement raves and the biggest festival stages – ultimately settling into an exclusive group of DJs that have the skill to work both levels of the scene. Her unique performances cultivated a great following across Europe and continue to broaden the horizons of dance music. Pretty Pink never shies away from a challenge as she continues to grow and evolve in her career and in her sound.
Through a regular stream of high quality mixes in her radio show 'DEEP WOODS' she has begun to turn heads in underground circles. Within the span of two years, it landed on 30 leading radio slots worldwide and reached 1 million streams via her socials. 'DEEP WOODS' consists of DEEP SENSATION and KLING KLANG, Pretty Pink's self-branded residency and well known event series that have attracted over 8,000 festival guests. After playing alongside respectable tastemakers at a myriad of revered venues in her homeland – Nature One, Sonne Mond Sterne, Airbeat One, New Horizon, World Club Dome and more – her loyal fanbase and bookings began to skyrocket. Pretty Pink has garnered a devoted fan base across the globe through her diverse productions, radioshow and stirring live shows, which launch listeners on an unforgettable musical journey. On stage she is known for her galvanizing stage performances as she continues to impress crowds with her dynamic natural ease, serenity and expertise.
Shifting her focus toward production, Pretty Pink has amply proved her serious talent in the studio as well as behind the decks. Whilst Pretty Pinks DJ sets are very energetic, she also manifests her wandering soul on the producer side. Pretty's own music has provided her with the chance to reveal a kinetic combination of dark, pulsating house and tech-house, driven beats, and natural energetic melodic compositions paired often with her own vocals. Pretty Pink had her recording debut in 2013 with an unforgettable edit of Daft Punk's 'Get Lucky', which demanded the attention of the scene with massive national and international support. With her clearly uncanny ability to create instantly astounding records she extended with 'GUNFIRE' her follow-up EP on Suara, which climbed to #2 on Beatport Deep House Chart of 2016. Pretty Pink possess a long list of high conceptual tracks like RUN, MY KICK, FLURAMA, TRICK, CHANGE on captivating sounding labels like Suara, Armada Deep, Sony, Warner, and Universal. Forming tracks to uncommercial club anthems was her mission, which allowed her unique signature sound to make remixes for Armin van Buuren, Lost Frequencies and also for 90's tastemakers. Gracing the pages of notable electronic publications such as DJ Mag Mexico, EARMILK, Magnetic Magazine and more, Pretty Pink is quickly becoming one to watch on the fronts of the electronic scene.
Things aren't slowing down anytime soon as Pretty Pink's most recent single 'PURE' topped the Beatport charts for over six weeks at #3 on Progressive House. The single has even caught the ear of uber tastemakers such as CamelPhat, Lane 8, Josh Butler, Monkey Safari and more who have all featured the single in their sets. On a hunt to envelop and solidify her sound, she jump-started her own record label, Wanderlust Music.
For now, with her upcoming releases, studio sessions, ongoing radio show to residential performances, record label and a packed tour diary, Pretty's showing signs of becoming a unique individual artist. Pretty Pink blends a tasteful sound with a twist of madness that elevates the crowd to new heights. With years of experience under her belt, the multi-talented workaholic has created a brand built to last. She will stop at nothing to continue cultivating and developing her sound. Time may pass and trends will fade, but the Pretty Pink's sound will never cease to impress. Her massive accomplishments only mark the beginning of her future conquests.